Teitl cyflogwr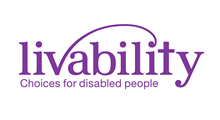 Cyfeiriad

50 Scrutton Street
London
EC2A 4XQ

Rhif ffôn

020 7452 2000

Gwefan
Livability creates opportunities for disabled people and brings life to communities.
We believe everyone should have the freedom to live their lives and have the chance to use their abilities.
We offer a wide range of innovative services to support and empower disabled people throughout their lives. We also provide community organisations with the resources, advice and confidence to impact their neighbourhoods.
We are at the forefront of providing vital services and support to disabled people. In partnership with Livability Housing, we work with over 100 local authorities and have a combined annual turnover of over £50 million.
Our core values of choice, independence and control shape the way we work. Together with Livability Housing, we work with over 8,500 disabled people and their families every year.
Registered charity number 1116530.
Registered in England number 05967087.
Company limited by guarantee.
Source - http://www.livability.org.uk/page.asp?id=500
Nid oes gan Livability swyddi gwag wedi'u rhestr ar ein cronfa ddata ar hyn o bryd.