Employer heading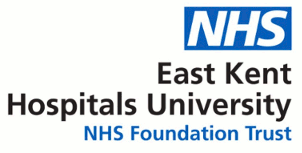 Address

Trust Headquarters
Kent and Canterbury Hospital
Ethelbert Road
Canterbury
Kent
CT1 3NG

Telephone number

01227 766877

Website
We are one of the largest hospital trusts in England, with five hospitals and community clinics serving a local population of around 700,000 people.
We also provide some specialist services for a wider population, including renal services in Medway and Maidstone and a cardiac service for all of Kent based at William Harvey Hospital, Ashford.
Our vision is 'great healthcare from great people'. Everything we do is guided by our vision and values.
We have a national and international reputation for delivering high quality specialist care, particularly in cancer, kidney disease, stroke and vascular services.
We value and pursue excellence in research and innovation. Our Trust has been ranked first in Kent for clinical research studies, as well as consistently recruiting high numbers of patients into research trials.
As a teaching Trust we play a vital role in the education and training of doctors, nurses and other healthcare professionals, working closely with local universities and Kings College University in London.
We're on an exciting journey of transformation, with a new Medical School at the centre of our community, a focus on research, clinical leadership and making our trust a rewarding and friendly place to work, there's never been a better time to join us.
List jobs with East Kent Hospitals University NHS Foundation Trust in Nursing and Midwifery, Emergency Services, Support Services, Administrative Services or all sectors