Employer heading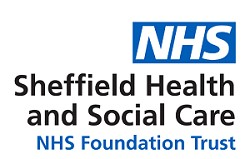 Address

Centre Court
Atlas Way
Sheffield
South Yorkshire
S4 7QQ

Telephone number

0114 2716310

Website
Sheffield Health & Social Care NHS Foundation Trust is an integrated health and social care Trust. We are the main provider of a wide range of specialist health & social care services to individuals and their carers or families in Sheffield. The Trust has an excellent reputation for providing high quality services to people within our care. Our vision is that people who use our services will achieve their full potential, living fulfilled lives in the community.

We provide:
• Mental health services for adults and older people
• Services for people with learning disabilities
• Services for people with drug and alcohol problems
• A wide range of other specialist services, such as for people accessing maternal mental health, gender dysphoria services and psychology for people with physical health problems.

We also provide a full range of services at sites where people live. These services aim to provide care and treatment to individuals and their families and help people to maintain their independence and continue with their day-to-day lives as far as possible. We provide a range of in-patient and residential services for individuals who cannot be appropriately helped in a community-based setting. Within our learning disability services we work closely with a large number of supported living settings/residential care homes in partnership with housing associations. Many of the people we help are seen in their own homes by members of staff, and some people attend our clinics to see nurses, social workers, therapists or doctors. We provide treatment, care and help on an individual or group basis where support and guidance is provided. We also work alongside GPs and other staff in local health centres, or with staff from other organisations often in the voluntary sector.

We often see people for short periods of time, providing advice and treatment which helps resolve the person's problems. For people with more serious longer term difficulties we will support them and work with them for a number of years.

As a Foundation Trust we work in partnership with Sheffield City Council and have formal agreements with them, called a section 75 agreement, to provide a range of social care services on the Council's behalf. Through these arrangements, we have made good progress in developing 'integrated' services for the people of Sheffield - an important goal that is shared by ourselves and the City Council.

We have placed great importance on working with other organisations to deliver integrated health and social care services to local people. In doing this we have aimed to reflect and provide for the diverse needs of the people and communities of Sheffield.


We have core values which are at the heart of all our daily activities, these values are:
Working together for our service users 
Respect and kindness
Everyone counts
Commitment to quality
Improving lives
List jobs with Sheffield Health & Social Care NHS Foundation Trust in Nursing and Midwifery, Allied Health Professions or all sectors