Employer heading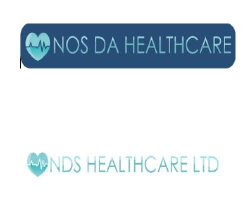 Address

Nos Da Healthcare Ltd
7 Under Cardiff Road
Bargoed
Gwent
CF81 8WZ

Website
Nos Da Healthcare Ltd was founded in 2008 by Tristan Rich. His vision was simple, to provide an innovative approach to the recruitment of healthcare staff across Wales at a cost-effective price and become a trusted & reliable recruitment agency that healthcare organisations can count upon for support 24/7.
Drawing on from his experience of opening new offices with a multinational care company, he was driven to believe that there was a niche in the industry for a fresh healthcare agency, family-owned business with an open-door policy to all staff & clients.
That belief came true and Nos Da Healthcare has gone from strength to strength, building the client base to work nationally with major healthcare organisations, NHS, private organisations and becoming the #1 agency of choice for a number of clients.
In 2019 due to astronomical growth across South Wales, Tristan Rich and his appointed Director Kady Seabrook decided to upscale their business and endeavour to open new locations. First to open was our office in Swansea covering all of South West Wales. With this office rising to success extremely quickly, they moved onto North Wales to conquer all of Cymru! Wrexham was the chosen location for the North and has become a strong and reputable business with an extremely good reputation in the North.
Further to the success of Nos Da Healthcare, in August 2021 Nos Da Healthcare launched their sister company onto the scene in England; NDS Healthcare Ltd. The first office opening in Kirkby, Liverpool. With the talent managed to secure in the Liverpool office, NDS are rising to success and adding week on week growth by growing their reputation across the North West. NDS now have plans to launch 3 new locations in the next 3 years - Manchester, Southampton & Leeds.
Nos Da Healthcare now provides Healthcare Assistants, Registered Nurses, Mental Health Support Workers & Project Workers across the whole of Wales and North West of England. Providing recruitment solutions to any obstacles that healthcare organisations may face in a challenging industry. 
The journey has only just begun for Nos Da Healthcare & NDS Healthcare with a vision of launching further office locations, revenue streams and becoming a leading provider of healthcare services across the UK.
Nos Da Healthcare Ltd presently has no vacancies listed in our database.