Employer heading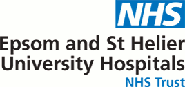 Address

Epsom & St Helier NHS Trust
East Wing, Epsom Gateway
Ashley Avenue
Epsom
Surrey
KT18 5AL

Telephone number

020 8296 2000

Website
Epsom and St Helier University Hospitals NHS Trust provides a range of medical services to approximately 490,000 people living across southwest London and northeast Surrey. In addition, we provide more specialist services, in particular renal and neonatal intensive care, to a wider area, covering parts of Sussex and Hampshire.
We serve an area that is rich in diversity, with a mix of urban and rural areas, and differing levels of quality of life. We cover some of the most prosperous postcodes in the country, as well as some poorer areas. Together with our colleagues at NHS Surrey and NHS Sutton and Merton, we work to make sure that we deliver the best possible care to the communities we serve.
The Trust employs approximately 5,000 staff across its hospitals and is supported by over 500 volunteers.
Source - Trust Website
List jobs with Epsom and St Helier University Hospitals NHS Trust in Nursing and Midwifery, Allied Health Professions or all sectors